Wisecrack – Wisecrack (Cassette/Digital)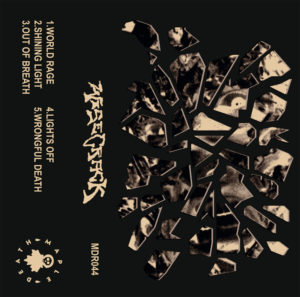 World Rage
Shining Light
Out Of Breath
Lights Off
Wrongful Death

out October 30th 2020 on Maple Death Records
Swarm of failing robots, where are you running to? This is Milano in 2020, put your gloves on, it's brutal out there. Hailing from the Occult Punk Gang collective and the experimental scene that calls Macao home, Wisecrack perfectly exemplify the bleak narrow futureless city with their heavy dose of industrial bass music. 
Their Maple Death self-titled debut is a furious mix of mind bending circuit breakcore rhythms, post-rave, hard techno and synth-punk delivered with an uncanny edge, a kinetic body voyage through vexation that juxtaposes celestial placidity (closing track 'Wrongful Death') with residual rage ('Lights Off').
Federico Campo and Francesco Manzato, the duo behind Wisecrack, came together in late 2018, to create music inspired mainly by bass and distortion, documenting city hallucination, suburban sprawls and urban isolation. Their first output 'Flesh' was included as a cut in Bristol's Avon Terror Corps compilation 'Avon Garde', epitomizing the duo's ties to the city's musical scene: post-dub, industrial, club culture. What characterizes Wisecrack is their unique approach, metallic dry beats, a cyber-punk sneering vocalist and a tribal thump that would not feel out of place on Chicago's legendary Wax Trax Records. 
Wisecrack's debut was recorded at home in Milan and at Macao. Released
digitally and on limited hand-stamped cassette, artwork by Filippo Moia.