J.H. Guraj – Underrated Glances At The Edge Of Town (cassette/digital)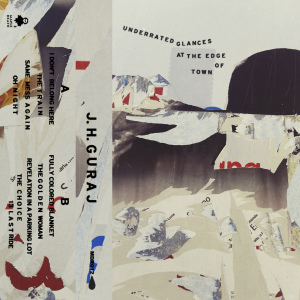 Side A
I Don't Belong Here
Same Mess Again
Oh Night
Side B
Fully Colored Blanket
The Golden Woman
Revelation In A Parking Lot
The Choice
(Limited edition C30 blue tape, hand-stamped black ink, mini insert and download code)
Traveling far away to the edge of something unexplored is nothing new to J.H. Guraj. His life points in that direction, painting a road that begins in Firmo, the small Arbëreshë (Italo-Albanian community) town buried deep amongst the hills of Italy's most southern region Calabria, and trails on to the infinite and beyond. Stealing his stage name Guraj from an old sage picker he encountered on a summer journey through the Albanian rocky landscape, Dominique Vaccaro now resides in Bologna where he wrote, thought about and recorded Underrated Glances At The Edge Of Town, his debut for Maple Death Records.
Dominique's work over the last ten years as a visual artist and electro-acoustic musician working in the field of musique concrète with analog devices and tape recorders has certainly informed his approach, however with this release he's back to his primary love, creating space and dimension just through the use of his fingerpicking guitar-delia and a larger than life cinematic attitude.
J.H. Guraj is a different sort of character, a kid that found a home between his father's blues & rock'n'roll record collection at an early age and learned the importance of "always leaving an open void" directly from the greats like Hamza El-Din, T-Bone Burnett, Dirty Three, Lightnin' Hopkins, Skip James and Cheo Hurtado. Now 30 years later he is sitting on the bus, after his late night shift in the heart of the city, as part of his daily commute to the outskirts, where the wilderness takes over.
Underrated Glances At The Edge Of Town wanders down the path created by Takoma & Vanguard guitar legends with a renewed perspective, a fire in the belly sweat drenched soul, not afraid to soak in cultures from far away in order to build a new sense of home and belonging. This is highly improvised music that takes risks, breathes, lives and dies like any human navigating this complex mysterious world we live in.
Recorded in Bologna by Enrico Baraldi at Vacuum Studio & Waiting Room Studio. Photography by Dominique Vaccaro, Artwork by Giulia Mazza.