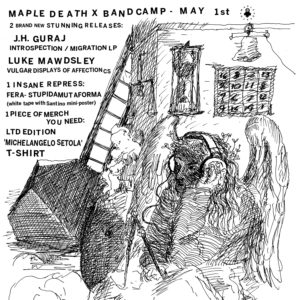 As most of you know Bandcamp is waiving their revenue share fee today to directly help labels/artists with the effects of the Covid-19 pandemic.
We've decided to make it as special as possible and announce two beautiful, intense and magical new albums:
– J.H. Guraj 'Introspection / Migration' LP
He's back and finally on vinyl. Six years in the making, wow does it deliver.
– Luke Mawdsley 'Vulgar Displays Of Affection' CS
Deep deep debut voyage!
We also have the white FERA 'Stupidamutaforma' tape repress in with a special limited 'Santino' designed by the artist.
And last but not least, one of our fav illustrators Michelangelo Setola (from Canicola edizioni) has designed a heavy two sided new MD T-Shirt.
We will posting about everything in detail in the next coming days.
Thanks xo
(image Melancolia by Andrea De Franco)