James Jonathan Clancy – Sprecato (LP/CD/Digital)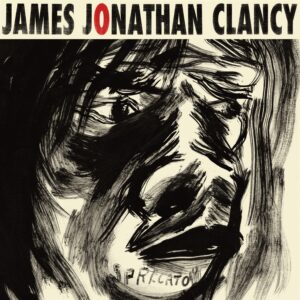 Castle Night
I Want You
Precipice
Black & White
A Worship Deal
Milk Of Dreams
Fortunate
Had It All
To Be Me
Out And Alive
Immense Immense Wild
out February 2nd, 2024
First album in seven years from Maple Death Records founder James Jonathan Clancy (Italy/Canada), and the first under his birth name following previous ensembles His Clancyness (Fat Cat, Maple Death) and Brutal Birthday (Total Punk, Improved Sequence). In the interim between those projects and this latest, 'Sprecato', Clancy has refined and honed his vision —steadily and carefully drawing from a host of disparate influences to create a new kind of singer-songwriter album that bridges the divide between cosmic loner-folk, proto-ambient music, and the epic, intricately arranged world of vintage Italian soundtrack music. For 'Sprecato', Clancy has assembled a transnational cast of renowned guest collaborators; including Stefano Pilia (co-producer/guitar/modular/synths/bass), Andrea Belfi (drums), Enrico Gabrielli (flutes, PJ Harvey/Calibro 35), Francesca Bono (piano, Bono/Burattini) —while the core of the band features Dominique Vaccaro (guitars, J.H. Guraj), Andrea De Franco (synths, Fera) and Kyle Knapp (sax, Cindy Lee/Deliluh).
Written and recorded between London & Bologna, the initial spark for the album was to be found in the book length work 'Gli Sprecati' (Canicola Edizioni), by visionary Italian comic's artist Michelangelo Setola, who ultimately provided Clancy with the graphics that grace the album's cover and overall visual sensibility. Something of Setola's near apocalyptic pastoralism runs through the record, even as Clancy's themes grow beyond the seed they'd originally planted. Drum machines that sound as if they've been excavated from the earth meet detuned pianos and guitars; bucolic traces of synths stretched beyond all reckoning. While the band is both loping and epic —with shades of Pentangle's Terry Cox in the live drumming in particular —there's a new emotional depth and clarity to Clancy's vocals here, almost as if there'd been some scenario where Scott Walker had helmed a record for the classic DIY ambient label, Palace of Lights, —while tracks like "Milk of Dreams" and "Had It All" vibrate on some kind of massive, Piero Umiliani type frequency. These are resolutely post-dusk through pre-dawn sounds; extraordinarily elemental, time distended, and which you can almost liken to moss creeping up a tree, or fireflies hovering just above a moonlit field.
'Sprecato' CREDITS
Written by Jonathan Clancy.
Co-produced by Stefano Pilia and Jonathan Clancy.
Mixed and Recorded by Stefano Pilia at Grabinski Point / Blind Sun (June-September 2023). 
Additional recording by Jonathan Clancy.
Recorded in London and Bologna 2018-2023.
Mastered at Outside Inside by Matteo Bordin.
Sprecato Crew
Jonathan Clancy
: Voice, 6 and 12 string acoustic guitar, Electric guitar, Korg and Juno 106 Synths, Organ, Piano, Sampler, Drum machine, loops.
Stefano Pilia
: Modulars, synths, bass, electric & slide guitar, bells & percussion, tape. 
Dominique Vaccaro
: Electric guitars (1, 3, 4, 5, 8).
Andrea De Franco
: Synths, Loops (1, 3, 4, 5, 8) .
Kyle Knapp
: Saxophones (1, 5, 6, 9, 10).
Andrea Belfi
: Drums (2, 4)
Francesca Bono
: Piano, Vocals (7).
Enrico Gabrielli
: Flutes (2, 3, 8).
Artwork & Illustration: Michelangelo Setola.
JJC live trio: JC, Dominique Vaccaro, Andrea De Franco.