SabaSaba – Metabasi (Cassette/Digital)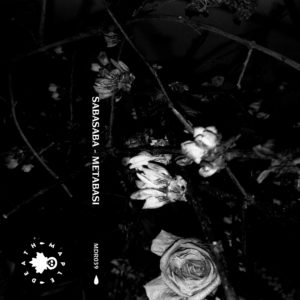 SIDE A:
α / β / γ / δ / ε / ζ / η / θ
SIDE B
ι / κ / λ / μ / ν / ξ / ο / π
Digital out June 5th 2020, physical out July 31st on Maple Death Records
Change, passage, mutation as a dynamic paradigm for understanding reality. This is SabaSaba's "Metabasi", a photograph of their shapeshifting identity and evolution in sound, a limited release before their next album in 2021. 
"We think you will find things related to what is our sound, that primordial and ancestral aspect and also some small new glimpses, things that will be more and more evident in the next LP, which compared to these pieces will have a more rhythmic and dub shape."
While getting ready to record their follow up to 2018's S/T SabaSaba had to put everything on hold as the global emergency unravelled. Forced to exchange ideas online they started building small compositions based on audio notes recorded on their shorts walks and field recordings from their balconies. Synths, tapes, organs, heavy processing and editing have brought a digital soul to their classic esoteric psych trademark. 16 tracks that create a hypothetical soundtrack for a dystopian film as reality was unfolding literally in front of their pagan Torino. Their industrial cinematic dub is stripped of its roots and dipped into sci-fi magic, Mille Plateaux remnants and glacial excursions. 
'

Metabasi

' was performed by

Andrea Marini

and

Gabriele Maggiorotto

and finished in May 2020. Mixed by Andrea Marini and mastered by

Antonio Gallucci

. Released digitally and on limited white hand-stamped cassette. Photography by Andrea Marini and layout by Andrea De Franco. J-card inlay printed on 200g pure Italian paper.