Whitney K – Two Years (LP/CD/Digital)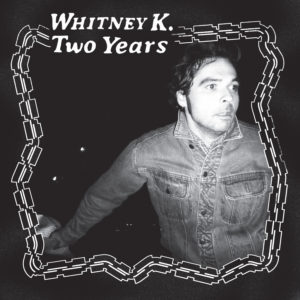 Good Morning
Trans-Canada Oil Boom Blues
Me Or The Party #165
#166
Cowboy City Rockers
Richmond Beach
The Weekend
Last Night #2
Hit This Pipe
Maryland

out February 19th 2021 on Maple Death Records
Rolling through life, an open mind like an ocean, an infinite ride that comes furiously crashing to a halt. This is Whitney K's 'Two Years', a deep dive into the Canadian songwriter's journey through vulnerability, change and ultimately letting his guard down. 
Whitney K is the wandering stalwart Konner Whitney, a Whitehorse Yukon resident who has spent time in Vancouver, Montreal, Burnaby and Los Angeles. We met the character in 2016 through his intoxicating 4-track recorded manifesto 'Goodnight', a head on collision into 24 hours of illusioned romance and modern day escapism. 
Fast forward to 2021, lift those curtains, aptly titled 'Good Morning' is the opening track on 'Two Years', a different cracker, a deliberate record about transformation, where to put it simply, Whitney K has arrived. Enlisting the aid of main collaborator and bandmate Josh Boguski and drummer Avalon Rossignol-Tassonyi the focus has been shifted, folklore and realism becoming reckoning and truthfulness, what was outsider folk is now political poetry, life in motion delivered through a freeway ridden baritone voice that transforms the mundane into extraordinary. Written with a completely different mindset and a conscious effort to break with the traditions of a corrupt, hypocritical, and hateful society/lineage, Konner's pen is precise and daring, uniting the earnestness of Willie Nelson and the comedy relief of Harry Nilsson on the beautiful 'Me Or The Party #165', or when painting Canada's colonial past and heartland image on the primitive rock'n'roll anthem 'Trans-Canada Oil Boom Blues'. There is no avoidance, no excuses, whether your self portrait in the mirror resembles a five dollar caricature sold on a boardwalk, the John Cale-esque opener 'Good Morning', or whether you learn you are worthy of love like on the poignant vignette 'Maryland', the beautifully arranged album closer that echoes Tin Pan Alley with Lou Reed's grit. 'Two Years' also presents plenty of fun, the perfectly stumblin' garage rocker 'Last Night #2', the honky tonk blues coming-of-age episode 'Cowboy City Rocker' and the cello/violin belter 'Hit This Pipe'. One of Whitney K's many gems is 'The Weekend' a minimalist spectral ode to hope where the band's restriction brings out the pure force and vocal command of the ramblin' troubadour. Time to open your arms, he's coming out of no fun city and aiming straight for you. 
'Two Years
' was written by
Konner Whitney
and recorded, mixed and mastered by
Josh Boguski
at
Studio Parc, Tiohtià:ke/Montreal.
Additional musicians: Avalon Rossignol-Tassonyi, Talia Boguski, James Perry, Allisson Higgins, Josh Salter, Carolyn Hirtle, Alex Bourque, Tara Desmond, Aidan Ayers. Photography by Christopher Vincent. Art / Layout by Kevin McCarthy.