The Wound – Strange Feeling (C32/Digital)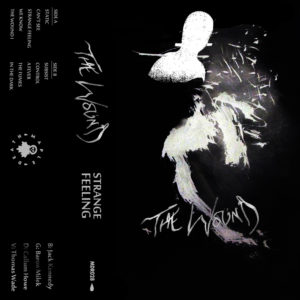 1.Static 02:28
2.Can't See 01:59
3.Strange Feeling 01:45
4.We Know 01:24
5.The Wound 03:06
6.Subsist 02:24
7.Control 01:01
8.A Fever 00:58
9.The Fumes 03:47
10.In The Dark 02:15
out November 30th, 2018 on Maple Death Records
Crikey the water must be rusty up in Northern England. Something just runs savage, no point even looking for an explanation. Take the hit, stay clear or navigate? Maple Death heads up to Leeds, West Yorkshire for The Wound (members of No Form and Beta Blockers) and their debut tape 'Strange Feeling'.
Gnarly is one way of putting it, but doesn't really cut it these days. Live this band just delivers, attack and release, a guitar tone to die for that stands out in these conveyer belt dark days for amplified rock'n'roll and a pummeling rhythm section that channels later era Flag with extra sprinkled chaos. I can't believe we had to run up North to find someone referencing 80s Italian Granducato Hardcore, CCM, Traumatic. To good to be true. Someone even whispered Ataque Frontal. Crank it.
'Strange Feeling' was recorded in April 2018 by James Atkinson (Arms Race, The Flex, Violent Reaction), mastered by Ian Boult. This is The Wound's first studio offering. J-card inlay printed on 180g pure Italian paper. Art by Thomas A Wade.