Heart Of Snake – S/T (Cassette/Digital)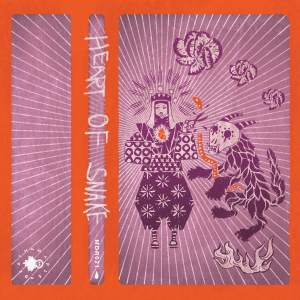 I. (15'56'')
II. (15'10'')
Heart Of Snake – S/T C32 (MDR021)
out May 18th, 2018 on Maple Death Records
Golden shine, desert trail, satan's whiskers, palomino charm, western Piemonte. Maple Death heads back to the Po river for the enchanted ragged vibration of Torino's duo Heart Of Snake.
Vincenzo Marando (Movie Star Junkies, Krano) and Alberto Danzi (I Residenti, k$m krew) are Heart Of Snake and their two classical guitars are at the forefront of these dark ancient mysterious compositions. Their debut is a thirty-minute journey through twisted valleys, dry weather and celestial hallucinations uniting the Haitian Dances of Frantz Casséus, the early Folkways catalogue and the poignant frost of Badalamenti's soundtrack work. Heightened by Onde Martenot, viola, vibraphone, Rhodes, steel guitars, synths and percussions I and II are fully realized oeuvres containing many micro-universes shifting from atmospheric Ry Cooder-isms to glorious simple Tony Conrad minimalism almost creating a bridge into the 90s world of Gastr Del Sol, Jim O'Rourke and David Grubbs.
Heart Of Snake is not merely another piece in the chaotic Italian psychedelic scene, it's a true entry point of beauty, a voyage through a forgotten kosmische rural landscape.
Heart Of Snake's self-titled debut is a limited C32 plum violet tape, hand assembled and stamped featuring artwork by Daniele La Placa, recorded by Mano Moccia and mastered by Paul Rafferty. J-card inlay printed on 180g pure Italian paper and comes with download code.