Video Duct – Small Pets And Kitchenettes (Cassette/Digital)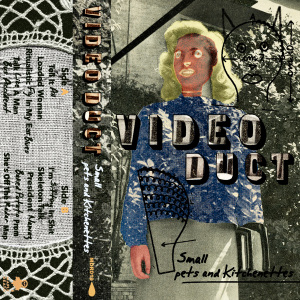 Side A
1) Tell It All
2) Loaded Woman
3) Ritualistic Fly In My Ear Blues
4) Talk Like A Man
5) Bus Accident
Side B
6) I'm Sitting In Shit
7) Skeleton Talk
8) President Nawaz
9) Baked Potato Prom
10) She's Off The Radar Map
Video Duct – Small Pets And Kitchenettes (MDR019)
out November 24th 2017
Free fallin' as a deranged way of life, drop, drop until the true essence is what is left on the floor. That's what our everlasting daily search is all about, right folks!? Today Maple Death is peeping into the unknown, flying high as a kite from California to Missouri to explore the chaos and threat created by the one and only Video Duct.
'Small Pets And Kitchenettes' is Video Ducts' first release for Maple Death Records, 50 minutes of art, menace, breakdowns, noise, no wave, concrete dub, punk squelches, benzo pills and 8 track wizardry created, recorded and executed all alone by American teenager Kelly Ribiat. Taped over a month in a Goleta home studio shared with a teenager with developmental disabilities on mostly analog equipment, Ribiat had to halt the production after being kicked out and when his brain failed to cooperate there was no other route then start heading back to Missouri where he finished the vocals in a 5 hour session.
'Small Pets…' is literally stepping into this young man's purest form of expression, a fully formed and realized slab of confrontational, emotional, face-melting rock'n'roll delivered with rage, beauty and the fury of early Birthday Party taking cues from the industrial concrete punk of Swell Maps mixed with the heritage and legacy of US 60s garage screaming rippers. Listen closely and get sucked into the ear candy headphone production referencing dub nuggets, Crass era drums, fuzzed spasms and Devo-id sense of humor… and oh shall we not spend a few words on the vocal performance. Seriously I could dish out dollars by the minute to hear such a stormy throat printed to tape. It's that good. Screaming Lord Sutch good. Get in line, send money well concealed.
Video Duct's 'Small Pets And Kitchenettes is a limited C50 acid brown tape, hand assembled and stamped featuring artwork by Giulia Mazza. J-card inlay printed on 180g pure Italian paper and comes with download code.