Geodetic – Broken Consonance (Cassette/Digital)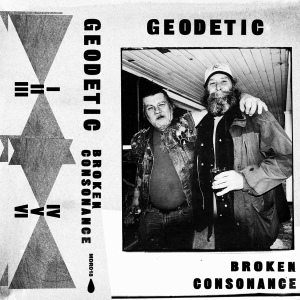 Side A
I
II
III
Side B
IV
V
VI
Geodetic – Broken Consonance (MDR018)
out July 14th 2017
The low thrust of a grainy claustrophobic man-made environment, heavy lights, rising atmosphere and human indecision. This is the world we live in, this is the constriction we go through every day, carelessly wading our lives through a bullshit narrative that still needs to be told. Here at the Maple Death HQ we need an OST that can discern the living from the dead, furthering ourselves from oblivion for just one extra day: Geodetic's debut 'Broken Consonance' is our soundtrack today.
Formed in late 2016, Geodetic is the electronic duo of Claudio Rocchetti and Jukka Reverberi. Industrial, techno, cassette culture, avant-garde fascination are all part of their sonic palette. They've been trading sounds via the complicated interwebz from their homes in Bolzano and Reggio Emilia, working relentlessly at night, headphones on, baby monitors dialed in at the 1, saturation monitors dialed in at the 10. You always have to cave in somewhere.
'Broken Consonance' opens with 'I', a pulsating steady cosmic serpentine hi-hat hissing away almost recalling early Boards Of Canada until saturated hand-claps lead us into 4 track Green Velvet era. 'II' moves effortlessly, a slow steady leftfield train of celestial paranoia; 'III' and 'IV' move from industrial frenzy to meditative landscapes, incorporating the Italian tradition and dark eleganza of 80's synth cassette pioneers Daniele Ciullini, La Maison and power-electronics king Maurizio Bianchi; 'VI' is a pure EDM industrial banger, ripping apart on an Ike Yard-ish circular pattern spreading shards of white noise on broken euro beats. Communal dissonance, endearing infinite dreams.
Claudio Rocchetti
is one of the most active European electronic avant-garde musicians, releasing music under his own name and with 3/4HadBeenEliminated (with Valerio Tricoli and Stefano Pilia), Olyvetty, In Zaire and collaborating on records with Jooklo Duo, Klaus Janek, Mattin, Bowindo, Fabio Orsi and Maurizio Bianchi. His output has been released on labels such as Hundebiss, Hapna, Die Schachtel, Presto?!, Soleilmoon, Backwards and Holidays Records.
Jukka Reverberi
is the founder of the beloved Italian instrumental band Giardini di Mirò, he's part of the cosmic electronic disco duo Crimea X and composes music for Spartiti, his industrial/poetry/ reading project. On his time off he also runs the great tape label Secret Furry Hole.
Broken Consonance
was recorded in 2017 and mastered by Nico Pasquini (Stromboli) on ¼ inch tape. It comes as a limited C30 red tape, hand assembled, featuring the stunning photography and artwork of Bologna artist
Giulia Mazza
printed on 200g pure Italian paper with a download code included.