Stromboli – Volume Uno (LP/digital)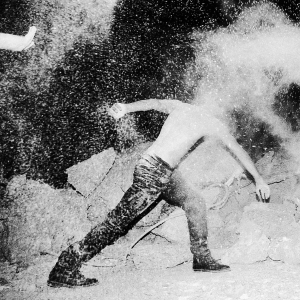 Side A
Drag Phase
Downwards
Haunted
Drop
Side B
White Walls
Arrows
Glow
Basedow Graves

Beneath a saturated nebulous city landscape lies a mirror reflecting sharp, complex particles of light that disappear under the faintest drop of rain, literally silver dissolving into rust, mercury poisoning the train tracks of modern paranoia. Through the cracks, the chilled warmth of Stromboli's Volume Uno rises, expanding on the notion of a solitary figure gasping for life in an industrial setting.
After turning heads with his 2015 debut, Stromboli is back with his second offering of beautiful ambient propulsive landscapes, isolationist harsh noise and industrial psych. Volume Uno expands Stromboli's sound deeply with the introduction of the Revox A77 tape machine that Fripp/Eno made famous on their classic 'No Pussyfooting'. Recorded mainly at night during chronic fits of insomnia and fueled by an unhealthy addiction to Prince's 'Purple Rain' flick and Micheal Mann's neo-noir masterpiece 'Thief', Volume Uno opens the gates with the violent thump of 'Drag Phase' before morphing into the destructured techno of 'Downwards' built on a Suicide-like reverse tape loop. 'Drop' showcases exactly what separates Stromboli from his peers, a warm approach to shivering metal factory music, a synthetic blaze cutting through analog ice on a path created by visionaries like Cluster, Harmonia and This Heat. 'Arrows' and 'White Walls' lock into a meditative drugged out state of mind, adding a Coil-esque esoteric element that ebbs and flows through shards of decomposed drum machines, organic lap-steel guitar, delayed samplers, all while maintaining the beauty and grace of a Ruth White composition. 'Glow' is hyper-ventilation, air chopped by the mutoid rhythms of machines relentlessly attacking the power plant.
Volume Uno is a journey into hidden and obscure thoughts, Chrome night time psychosis, a world created by meditative warriors, wizards and outsiders, where Terry Riley holds the keys of time, Basinski is master of pace and Throbbing Gristle fight in the trenches. Stromboli leaves no choice, there is no escaping the inevitable.
Already praised by Simon Reynolds, The Quietus, TinyMixTapes, Decoder and 20JazzFunkGreats for releasing one of 2015s best tape releases, Stromboli returns with Volume Uno, his first full-length LP for Maple Death Records. Recorded in 2015 in his hometown of Bologna, mastered by Andrea Prato in Torino. LP features the stunning photography and artwork of Giulia Mazza and includes insert and download code.
  "It's the post-industrial sound of industry limping on…" –
20JazzFunkGreats
 "Sinister, hypnotic, meditative, and mysterious!" –
TinyMixTapes
 "On the precipice between ambient and noise revealing both dark and tender moments"
– The Quietus
 "Prehistoric jams that often stay loose and cerebral"
– Decoder