His Clancyness – Isolation Culture (LP/CD/digital)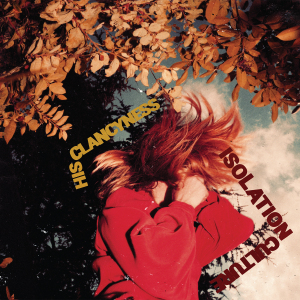 Tracklist
Uranium
Watch Me Fall
Pale Fear
Isolation Culture
Dreams Building Dreams
Isolate Me
Calm Reaction
Xerox Mode
Impulse
Nausea
Cuuulture
Only One
(GATEFOLD 180-gram classic black edition, hand-numbered, limited to 300 copies, lyrics and MP3 download)
(CD version is an old school black jewel case and includes lyrics and artwork by the band's very own Giulia "Pazzy" Mazza")  
ORDER LP – Limited Colour Edition (SOLD OUT)
(GATEFOLD 180-gram swirly red and black vinyl, limited to 200 copies, lyrics and MP3 download)  
Alone, together. It's not a new state by any means but it so perfectly defines our life that it's hard not to think of it as a modern concept. At no other time has it been easier to be a part of a working civilization at arms length, on your own terms. Constant data mining and the omnipresent ad in the room provide zero shelter from any connection to "the outside" without sponsored content. No one could have predicted that connecting the world to itself would make it more insular. It's easier than ever to know what's happening at all times everywhere but even harder to know what people are actually thinking – literally Isolation Culture.

His Clancyness take this idea and turn it over across the 12 songs that make up their second full length. Is it so bad to want to be alone in the world? What does participation in a society mean anymore? Is communication a communal act or is it a virtual moment you have to log in to find the answer too?

Maybe the answer is that Isolation Culture is a group effort – it's not the result of a singular thought but a hive – a coming together, a commune. It's like a memory, there's focus and blur and something already known but the combination feels new, like right now.

Share the unknown / Isolate me culture.

(Brian Case, Disappears)
Isolation Culture released on Maple Death Records / Tannen Records (Eu/Uk) and Hand Drawn Dracula (ROW) is His Clancyness' sophomore album and follows Vicious, their debut on England's seminal FatCat Records. The record saw the band blaze a relentless trail across Europe and the US, hitting well over 150 cities across multiple tours before setting their sites on writing LP number 2.
The band began life as the solo project of singer/guitarist Jonathan Clancy but has since found a new form inspired by the camaraderie of life on the road. The group has evolved into a collaborative tour-hardened minimal noise-pop machine that features Jacopo Beta's propulsive drumming, Giulia Mazza's alien synthesizers, the commanding low thump of Nico Pasquini's bass playing along with Clancy's trademark fidgeting guitar work and his usual stirring lyrical resolve.
Over the last two years the band have retired to their Bologna basement HQ, Strange City Studios to put to use the newly-honed aesthetic and write a new clutch of anti-hits. Here they conducted late-night 4track experiments, embarked upon curious sonic investigations, threw the odd party and emerged with fistfuls of inspired compositions that make up their compelling new album.
They approached both Matthew Johnson (or MJ as he is known as front man of krautrock band Hookworms) at Suburban Home Studio, Leeds and Stu Matthews (Beak, Anika, Portishead) at Portishead's Invada Studio to capture the spirit of their experimentation and wrestle it into the succinct art-pop LP that you hear today.
Both producers allow His Clancyness' restless and assertive songs shimmer through the lo-fi murk of noisy home-recorded tape loops and analogue hiss.
Pale Fear's cassette-recorded beat rumbles through neon-lit streets of synth noise and sleazy fuzz guitar; Uranium twists and turns, hallucinating a bleak future for the listener whilst Dreams Building Dreams denounces the Italian government's senseless austere cuts to arts and culture with Clancy's scathing lyrics and a synth-sax freakoutro. Impulse channels Gun Club's romantic side whilst ballads like Calm Reaction & Watch Me Fall feel like Plastic Ono Band anti-theme tunes for an apocalypse occurring in slow motion.
Isolation Culture is a record from another place. It could be a recording snatched from a wormhole to a parallel universe where weathered Bowie statues pepper the abandoned city streets and Swell Maps' music is piped into empty runaway subway cars. Maybe it's the final psychedelic transmission from a radio station in flames or maybe it turned up on your lawn, delivered by an overnight tornado from somewhere that no longer exists.
But what if Isolation Culture is part of the evidence that suggests that there are bands making records just like this one hidden in all the shadows in all the cities in the world? We can only hope that there are.
 Isolation Culture was recorded and produced by His Clancyness, Matthew Johnson & Stu Matthews. Mastered by Harris Newman. Artwork and Photography by Giulia Mazza.