Whitney K – Goodnight (cassette/digital)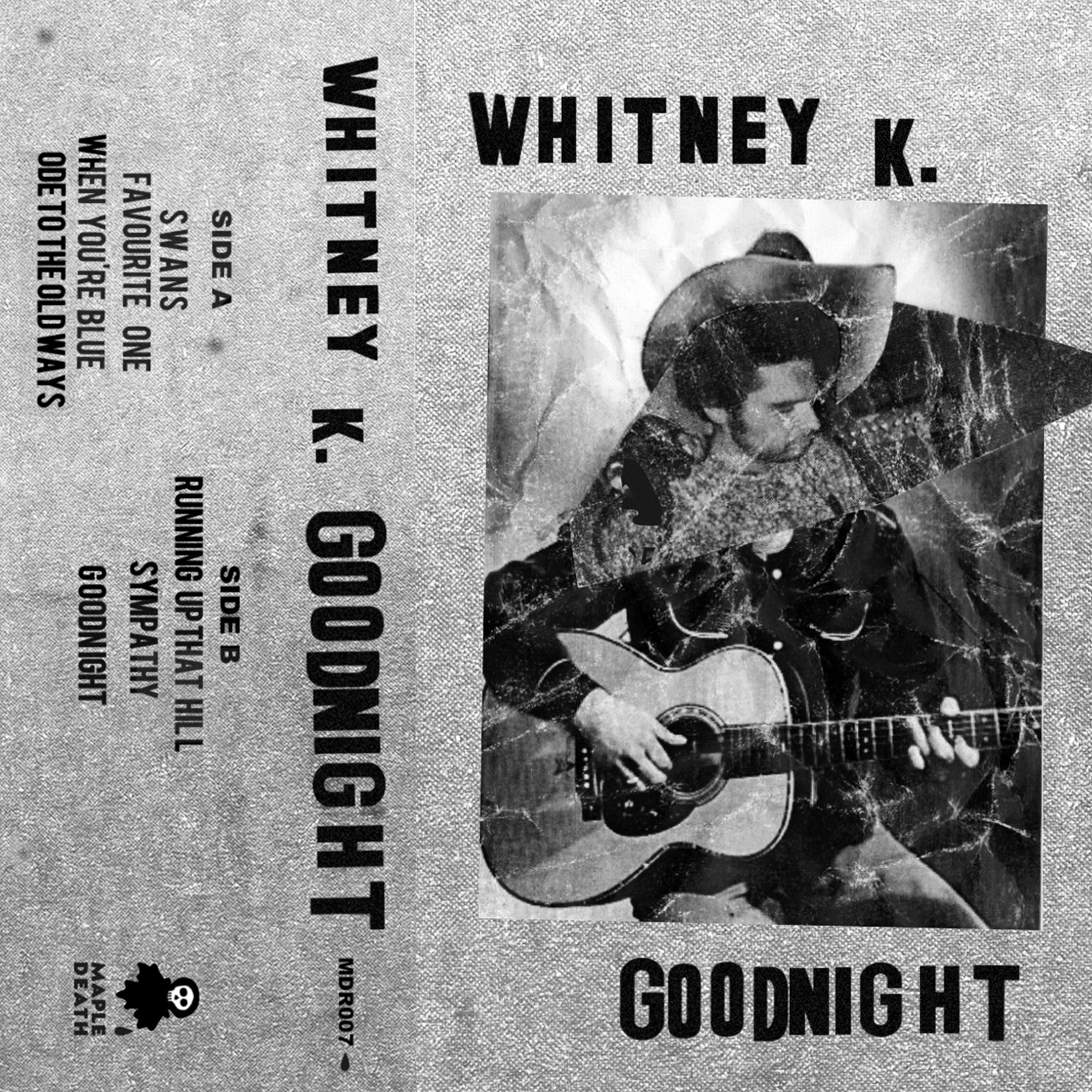 Tracklist
Swans
Favourite One
When You're Blue
Ode To The Old Ways
Running Up That Hill
Sympathy
Goodnight
(Limited edition transparent hand-stamped "gold mirror" cassette tape with inlay printed on 170 g popset avorio paper and download code)
Time is not a friend when trouble comes rolling in. Except this time you're driving around Vancouver, Canada with Whitney K and everything is becoming intoxicating by the second, he wants to waste your minutes, get comfortable and help you find a new illusion sometimes called romance.
Whitney K is Konnor Whitney a young man from Vancouver, who has spent time in Whitehorse, Yukon, Montreal, Burnaby and Los Angeles. Goodnight is his first album for Maple Death Records and fittingly is his most coherent effort, an intimate journey into everyday life, borderline depression and the simple things that keep turning those 24 hours around: read, drink, get around and work just enough to stay afloat.
Recorded completely at home on a 4 track machine empathetically named "moth insurance" Goodnight has all the qualities of a timeless recording, a warm ball of charm hurling down a freeway filled with late night Harry Nilsson stories (Goodnight), the raw fierce spirit of Karen Dalton, the chu-chu train thunder of John Cale's Velvet Underground (Swans, Sympathy) and the ragged primitive noise punk blues of Royal Trux and early Beck a là One Foot In The Grave era (Running Up That Hill). Once they would have simply called it outsider folk, tying Whitney K, to a generation of ramblin' troubadours living life on the freakier side of American folk and walking in Michael Hurley's shoes. What sets Whitney apart is his straightforward, introspective lyrical style that combines folklore and realism to instantly transform the mundane into extraordinary, creating seven stories that draw you in from the get-go.
Goodnight was mixed by former Jackie O' Motherfucker member Joshua Stevenson (Nü Sensae, Destroyer, Steve Hauschildt, White Lung) and places Whitney K in the fervent Vancouver music community amongst friends and peers Cindy Lee & Gretchen Snakes. Mastered by Josh Boguski at Studio Parc Mastering. It's now or never before the sun comes up, before this goodnight turns into smut.