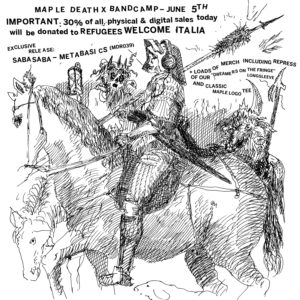 Dreamers,
today Bandcamp is waiving their revenue fee. We've decided to donate 30% of all our sales today, both digital & physical, to Refugees Welcome Italia (more info below).
We think it's important to act locally and engage globally as much as possible to put and end to violence and discrimination. Start by demanding change in your own community. Links on anti-racism resources. ACT NOW.
We have a limited release up today, plus represses on all our merch.
– SabaSaba are back with 'Metabasi' (MDR039). Listen NOW.
Change, passage, mutation as a dynamic paradigm for understanding reality. This is SabaSaba's "Metabasi", a photograph of their shapeshifting identity and evolution in sound, a limited release before their next album in 2021.
*** More Information on Refugees Welcome Italia: Refugees Welcome Italia was established in 2015 as part of an international network started in Germany in 2014 and now operating in 13 countries. Simple and "revolutionary" idea: providing refugees with the possibility of living in flatshare with local people on temporary basis.
Foster the social inclusion of refugees and beneficiaries of other form of protection through a reception model based on flatshares/accomodation offered by private citizens. Try to change the mainstream narrative on migration through awareness-raising campaigns and communication activities.
– It is one of the easiest ways to get to know the cultural and social context of the hosting country, to build a network of social relationship, to pave the way toward fully independence and self-reliance.
– It can help overcoming the marginalization/annihilation experienced in big facilities and to re-activate personal resources and potentialities.
– It can strengthen social cohesion and combat prejudices, fears and stereotypes.
– It is a form of active citizenship, a concrete way to help people in need. It is a chance to experience first hand a different culture and to gather insights about migrations.
Thanks and stay strong, xo
JC – Maple Death
(image by Andrea De Franco)